2005 CAMP PERRY
NATIONAL MATCHES

AIHPA AUSTRALIAN HIGH POWER RIFLE
TEAM TRIP TO USA
A full report from Camp Perry Ohio National Matches will be here shortly, but with the event behind us, let it be known that all of the Australian contingent believe this is the ultimate event for shooting, and shooters, around the world.
For the shooters at Camp Perry who wish to contact the Australian Team, feel free to email info@ aihpa .com and we will make sure the e-mail gets to the person you are looking for.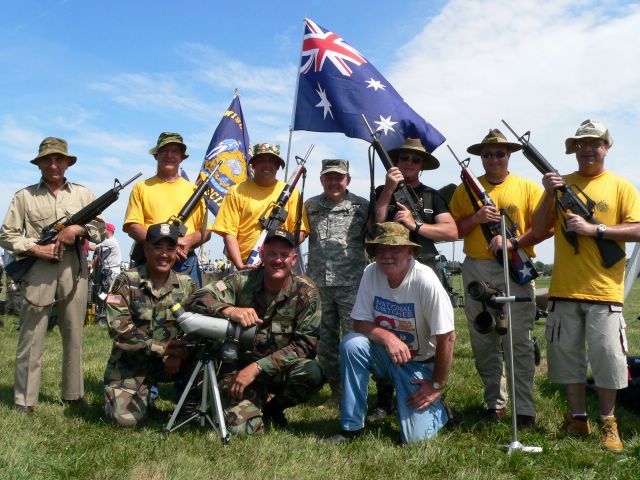 Front Row - US Army Marksmanship Team - Lt. Colonel Dave, Sergeant "Bull" and Al Ewing (Ret).
Back Row - George Grivas (Newcastle), John Webber (Newcastle), David Waters (Sydney), General Anthony Jones (US Army), David Vivian-Jones (Sydney), Aubrey Sonnenberg (Sydney), David Cornick (Sydney).
------------------------------------------------------------------------------------------------
National Matches Play Host to Australian High Power Team
By Sommer Wood, Staff Writer/Editor of the CMP
<! Nested Table for picture>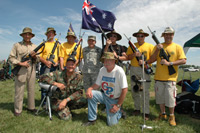 The Australian Team with Lieutenant General Anthony Jones of the U.S. Army.

So you think you traveled a long way to get to Camp Perry this year, well try traveling half way across the world. That's exactly what the Australian High Power Team, Aussie Roos, did for a chance to experience the U.S. National Matches. The team consisted of David Cornick, George Grivas, Aubrey Sonnenberg, David Vivian Jones, David Waters, and John Webber. All six shooters are ex-service (from webmaster, this statement is incorrect, as only 4 shooters are ex service) men from Australia who were looking for the opportunity to shoot semi-automatic rifles, which have been banned in Australia since the government enforced strict gun bans in 1996.

<! Nested Table for picture>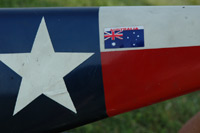 Australian Sticker on a borrowed rifle that has the Texas State Flag on the stock.

Because of the gun bans, the team didn't even have rifles to bring to the National Matches. With the help of the several American contacts, the team was able to borrow rifles and acquire ammunition to shoot while at Camp Perry. And shoot they have, the Aussie Roos have participated in every rifle match held during high power week. "We have been very impressed and overwhelmed with how nice everyone has been, it has just been a wonderful experience," said George Grivas of Adamstown Heights in New South Wales where most of the team is from.

<! Nested Table for picture>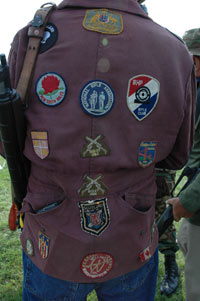 Patches from gun clubs around the world.

Several of the shooters have traveled all over the world for the opportunity to shoot and plan to come back to Camp Perry again next year. "You have to be careful of what happens in your country. Gun bans happened in Australia, England, and Canada but crime just went up. Now we have to travel half way around the world to have a week's good shooting with friends, shooting the same rifles we used to own," said George Grivas.

<! Nested Table for picture>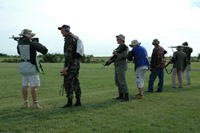 Australian Team in the Infantry Trophy Match.
Members of the group still hope that one day they can achieve a lift on the gun bans in Australia. All are members of the Australian International High Power Association, http://www.aihpa.com, which is working to lift the bans. Hopefully one day the Aussie Roos can invite Americans to their own National Matches, but until then they will always be welcome at Camp Perry. Check match results to see how the Aussie Roos did at http://clubs.odcmp.com/cgi-bin/report_matchResult.cgi?matchID=827. For more pictures go to http://www.odcmp.com/Photos/05/Index.htm.



Welcome, to "The National Matches".



On arrival, we look around the camp grounds, and there is plenty to see...


These girls are 14yo, both shoot Master Grade, and are putting nail polish on their finger nails while waiting for Sweets to soak into their rifle barrels before cleaning. An AMAZING sight to see these juniors shoot like professionals...










Some of the Aussies in action.














General range pictures - early morning (6.30am start!), on the range, in the pits, before the storm, during the storm, and a lady who just LOVES AR15's!!!








During the "Rattle Battle". Note the teams - Australians, Marines, National Guard, and Army Reserve, and Army Marskmanship Unit. Note the prone style - to absorb recoil for rapid fire shooting (this match is about as much ammo as possible in the shortest possible time).




Mates - Texans and Australians



At the NRA Awards Night - the top 3 HPR 2005 Champions flanked by David Waters and Aubrey Sonnenberg. GSFC Julia Watson (USMC) was highest female, and also finished top 10 out of thousands of shooters - considered one of the best in the world (came through the junior program, and CMP).