Results,
2006 SYDNEY CUP - Review
hosted by, SSAA Sydney Branch
The tradition continues...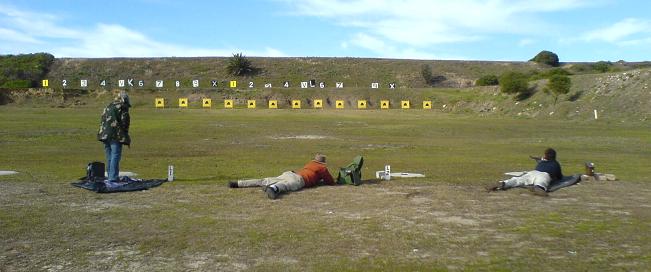 The Sydney Cup 2006 was one of the best shoots of the year. We thank David Waters for all his organisational work and making this shoot possible, and thanks to all our shooters who volunteered, enjoyed and participated. Hope to see you in 2007...
RIFLE
3 POSITION 300
3 POSITION 200
3 POSITION 100
3P
RAPID FIRE B 100
GRAND
300 SNAP C
3 POSITION 300
3 POSITION 200
3 POSITION 100
3P
GRAND
CLASS
Grd
Jnr
FIRST NAME
LAST NAME
STATE
BRANCH
V
5
4
3
2
1
SCORE
HITS
V
5
4
3
2
1
SCORE
HITS
V
5
4
3
2
1
SCORE
HITS
TOTAL
V
5
4
3
2
1
SCORE
HITS
PRIX
V
5
4
3
2
1
SCORE
HITS
V
5
4
3
2
1
SCORE
HITS
V
5
4
3
2
1
SCORE
HITS
V
5
4
3
2
1
SCORE
HITS
TOTAL
TOTAL
S
M
CRAIG
MAHONEY
NSW
SYDNEY
2
2
1
21.00
5
7
2
1
49.07
10
13
1
1
74.13
15
144.20
19
1
100.19
20
244.39
4
4
2
48.04
10
4
1
25.04
5
5
5
50.05
10
10
4
1
74.10
15
149.19
441.62
CRAIG
MAHONEY
S
GM
DAVID
WATERS
NSW
SYDNEY
4
1
24.00
5
2
7
1
49.02
10
9
4
2
73.09
15
146.11
17
3
100.17
20
246.28
1
5
2
1
1
43.01
10
1
2
1
1
22.01
5
4
2
3
1
45.04
10
11
4
75.11
15
142.16
431.45
DAVID
WATERS
S
A
KEVIN
GILL
NSW
SYDNEY
3
2
23.00
5
3
3
3
1
45.03
10
1
10
4
71.01
15
139.04
5
6
8
1
90.05
20
229.09
8
2
38.00
10
3
2
25.03
5
3
3
4
46.03
10
7
8
75.07
15
146.13
413.22
KEVIN
GILL
S
M
RICK
GLEESON
NSW
SYDNEY
1
2
2
23.01
5
1
4
5
45.01
10
3
6
6
69.03
15
137.05
6
11
3
97.06
20
234.11
2
2
3
32.02
7
3
2
25.03
5
3
3
4
46.03
10
9
5
1
74.09
15
145.15
411.28
RICK
GLEESON
S
A
FRANK
GASPARINI
NSW
SYDNEY
1
2
2
23.01
5
3
9
3
72.03
15
3
4
3
47.03
10
142.07
5
11
2
2
94.05
20
236.12
3
2
3
32.00
8
1
4
21.00
5
3
3
4
46.03
10
9
6
75.09
15
142.12
410.24
FRANK
GASPARINI
S
U
DAVID
CORNICK
NSW
SYDNEY
1
4
25.01
5
1
4
4
1
44.01
10
4
7
4
71.04
15
140.06
2
4
14
86.02
20
226.08
1
2
6
39.01
9
2
3
25.02
5
3
3
4
46.03
10
6
8
1
74.06
15
145.11
410.20
DAVID
CORNICK
S
U
WARREN
BARBER
NSW
SYDNEY
2
2
18.00
4
3
2
5
45.03
10
4
9
3
77.04
16
140.07
2
13
3
1
90.02
19
230.09
1
3
3
2
1
40.01
10
1
2
1
1
22.01
5
1
2
5
2
41.01
10
4
8
3
72.04
15
135.06
405.16
WARREN
BARBER
S
M
DICK
BENNETT
NSW
SYDNEY
3
1
1
21.00
5
3
7
43.00
10
8
4
3
72.08
15
136.08
9
10
95.09
19
231.17
1
4
4
1
35.01
10
2
3
22.00
5
2
8
42.02
10
5
8
2
73.05
15
137.07
403.25
DICK
BENNETT
S
A
CHRIS
BAYNES
NSW
SYDNEY
1
2
2
19.00
5
2
2
5
1
43.02
10
2
7
6
69.02
15
131.04
7
7
6
94.07
20
225.11
3
5
2
41.00
10
1
1
2
1
20.01
5
7
2
1
45.00
10
6
4
5
70.06
15
135.07
401.18
CHRIS
BAYNES
S
A
ANDREW
GOODSELL
NSW
SYDNEY
2
3
22.00
5
1
1
5
1
1
35.01
9
2
7
6
69.02
15
126.03
7
6
7
93.07
20
219.10
2
4
2
2
36.00
10
1
3
1
20.00
5
1
7
1
1
38.01
10
4
9
2
73.04
15
131.05
386.15
ANDREW
GOODSELL
S
A
BOB
HARROLD
NSW
SYDNEY
3
2
23.00
5
2
4
3
1
45.02
10
1
4
10
65.01
15
133.03
8
9
2
1
96.08
20
229.11
2
5
1
33.00
8
2
2
18.00
4
1
2
6
31.01
9
10
4
1
74.10
15
123.11
385.22
BOB
HARROLD
S
U
KIM
ELLIS
NSW
SYDNEY
4
2
20.00
6
1
5
3
1
36.00
10
5
6
4
71.05
15
127.05
4
4
10
80.04
18
207.09
1
2
4
1
2
38.01
10
1
4
11.00
5
1
8
1
40.00
10
1
7
6
1
67.01
15
118.01
363.11
KIM
ELLIS
S
A
JAMIE
HARRIS
NSW
TAMWORTH
1
2
2
14.00
5
1
1
4
4
30.01
10
3
5
5
2
66.03
15
110.04
4
6
8
1
85.04
19
195.08
1
4
5
36.01
10
1
2
2
19.00
5
1
4
3
1
40.01
9
5
5
3
1
65.05
14
124.06
355.15
JAMIE
HARRIS
S
B
ANDREW
RADFORD
NSW
SYDNEY
1
1
2
1
21.01
5
1
7
2
39.01
10
3
6
6
69.03
15
129.05
3
6
7
73.03
16
202.08
1
2
4
25.00
7
1
1
1
1
13.00
4
1
3
3
3
41.01
10
8
4
2
1
71.08
15
125.09
352.17
ANDREW
RADFORD
S
B
RAY
HARROLD
NSW
SYDNEY
4
1
14.00
5
1
1
2
5
1
35.01
10
6
4
5
70.06
15
119.07
4
5
7
4
85.04
20
204.11
2
4
2
30.00
8
1
3
1
15.00
5
2
1
4
3
40.02
10
4
6
5
59.00
15
114.02
348.13
RAY
HARROLD
S
B
RICHARD
LOSIAK
NSW
SYDNEY
2
3
17.00
5
1
3
2
2
2
38.01
10
3
6
6
69.03
15
124.04
4
6
8
1
1
87.04
20
211.08
6
1
2
31.00
9
1
1
1
1
17.01
4
1
1
3
1
1
21.01
7
1
6
8
67.01
15
105.03
347.11
RICHARD
LOSIAK
S
B
BRAD
HEDGES
NSW
NEWCASTLE
1
2
1
1
18.00
5
1
3
4
1
39.01
9
5
4
5
1
67.05
15
124.06
5
7
7
1
91.05
20
215.11
2
1
6
32.02
9
1
3
7.00
4
1
6
1
1
25.00
9
1
6
6
2
65.01
15
97.01
344.14
BRAD
HEDGES
S
A
ROMAN
COPOT
NSW
SYDNEY
3
2
18.00
5
1
3
3
2
1
40.01
10
8
3
2
2
62.00
15
120.01
1
9
6
3
65.00
19
185.01
2
3
1
19.00
6
2
3
17.00
5
9
1
39.00
10
2
6
4
3
65.02
15
121.02
325.03
ROMAN
COPOT
S
B
GEOFF
FANIN
NSW
SYDNEY
1
4
21.00
5
1
8
1
40.00
10
4
5
5
1
68.04
15
129.04
4
13
2
78.00
19
207.04
1
2
2
5
2.00
5
3
1
1
17.00
5
1
1
6
2
31.00
10
7
6
2
65.00
15
113.00
322.04
GEOFF
FANIN
S
B
WAL
VONSLAZGOWSKI
NSW
SYDNEY
1
1
2
1
21.01
5
8
1
26.00
9
2
4
6
4
66.02
16
113.03
1
15
5
80.00
21
193.03
2
8.00
2
2
2
10.00
4
4
2
2
34.00
8
4
4
6
1
67.04
15
111.04
312.07
WAL
VONSLAZGOWSKI
S
U
STUART
GEORGE
NSW
SYDNEY
2
2
1
20.00
5
5
4
1
34.00
10
4
7
4
60.00
15
114.00
4
9
3
65.00
16
179.00
1
4
3
1
32.01
9
1
2
1
1
18.00
5
1
2
1
1
18.00
5
1
3
10
1
63.01
15
99.01
310.02
STUART
GEORGE
S
U
NORM
BAYNES
NSW
SYDNEY
1
2
1
14.00
4
1
2
3
4
39.01
10
1
7
3
2
1
60.01
14
113.02
1
5
10
3
1
81.01
20
194.03
3
1
3
21.00
7
2
10.00
2
1
2
3
1
1
25.00
8
4
6
4
56.00
14
91.00
306.03
NORM
BAYNES
S
B
ALAN
BAYNES
NSW
SYDNEY
1
2
1
16.00
4
1
3
2
1
2
1
36.01
10
2
3
5
3
2
58.02
15
110.03
2
8
6
1
62.00
17
172.03
2
3
5
27.00
10
2
1
12.00
3
4
3
2
29.00
9
2
5
4
2
1
59.02
14
100.02
299.05
ALAN
BAYNES
S
U
CRAIG
KIRKMAN
NSW
SYDNEY
1
1
5.00
2
5
3
1
31.00
9
4
8
3
61.00
15
97.00
1
2
12
2
1
71.01
18
168.01
1
2
3
1
23.00
7
1
2
2
14.00
5
2
3
1
24.00
6
2
3
8
1
60.02
14
98.02
289.03
CRAIG
KIRKMAN
S
C
NORM
PARKER
NSW
SYDNEY
1
1
7.00
2
3
3
3
27.00
9
1
3
8
2
58.01
14
92.01
2
4
5
2
54.02
13
146.03
3
1
11.00
4
1
4.00
1
5
4
1
34.00
10
1
5
6
1
1
59.01
14
97.01
254.04
NORM
PARKER
S
B
JOHN
WATERS
NSW
SYDNEY
3
1
1
24.03
1
1
2
5
1
35.01
10
4
8
3
61.00
15
120.04
3
11
5
1
91.03
20
211.07
0.00
0
0.00
0
0.00
0
0.00
0
0.00
211.07
JOHN
WATERS
S
B
CHARLIE
MIFSUD
NSW
SYDNEY
2
2
16.00
4
1
1
3
3
31.01
8
1
6
3
3
1
51.01
14
98.02
2
6
7
2
59.00
17
157.02
0.00
0
0.00
0
0.00
0
0.00
0
0.00
157.02
CHARLIE
MIFSUD
M
A
ZAC
WILLETT
NSW
SYDNEY
1
1
3
18.00
5
3
2
3
2
43.03
10
4
7
4
71.04
15
132.07
9
10
1
99.09
20
231.16
1
2
5
2
41.01
10
1
1
3
22.01
5
4
1
5
45.04
10
9
6
75.09
15
142.14
414.31
ZAC
WILLETT
M
A
AUBREY
SONNENBERG
NSW
SYDNEY
1
4
25.01
5
1
8
1
40.00
10
1
8
6
69.01
15
134.02
4
14
2
98.04
20
232.06
3
3
3
42.03
9
2
2
1
24.02
5
2
7
1
41.00
10
1
5
6
3
63.01
15
128.03
402.12
AUBREY
SONNENBERG
M
A
NORM
FRAPELL
NSW
SYDNEY
1
2
2
23.01
5
6
4
26.00
10
5
10
65.00
15
114.01
12
6
1
93.12
19
207.13
1
1
4
1
1
31.01
8
1
1
3
22.01
5
1
4
4
1
44.01
10
4
6
5
70.04
15
136.06
374.20
NORM
FRAPELL
M
U
LIZ
KEENAN
NSW
SYDNEY
1
4
21.00
5
1
0
4
4
1
35.01
10
3
7
5
70.03
15
126.04
3
7
7
1
80.03
18
206.07
1
1
1
1
2
21.01
6
1
2
2
21.01
5
1
5
2
1
1
34.01
10
2
4
9
66.02
15
121.04
348.12
LIZ
KEENAN
M
U
ELLIS
KIRKMAN
NSW
SYDNEY
3
2
23.00
5
1
3
4
1
39.01
9
1
3
10
1
63.01
15
125.02
3
6
4
61.03
13
186.05
1
2
2
2
1
24.00
8
2
3
22.00
5
2
3
4
1
36.00
10
3
2
10
65.03
15
123.03
333.08
ELLIS
KIRKMAN
M
U
Jnr
LAURA
HEDGES
NSW
NEWCASTLE
1
1
1
9.00
3
4
1
2
16.00
7