DOWNLOAD PRINTABLE FLYER (.PDF)
POSITIONAL RIFLE COMPETITION

Raglan Range (south of Rockhampton) QLD
7-8-9 Sept 2012

Hosted by QMRC QUEENSLAND


* * * ALL licensed shooters WELCOME * * *
This weekend is made up of a national and international course of fire, offering something for everyone. To enter, simply show up each day, pay the rego fee, and shoot your choice of rifle - like any event, this is no different.
Rifle Specification/Classes
: Note: Rifles are forwards compatible, i.e. Spec 1 can be used in Spec 2 or 3 etc.
Spec 1: Service - Standard Iron - Any issued iron sights rifle in original condition – zero modifications.
Spec 2: Service - Modified Iron - As above, or faithful reproduction, modified - service calibre.
Spec 3: Match - Match Iron - Any service commercial, sporter or match rifle, of any calibre, iron sights.
Spec 5: Service/Match - As per Specs 1, 2, or 3 but fitted with optical sights.

Every Day: 7.00am: Sign on for matches. 7.45am: Briefing and preparation. 8.00am: Event starts.
FRIDAY: Rifle Range open for practice. Squadding on the day.
PISTOL - Event 1 - "Service Pistol". 90 rounds, 7P shot at 50, 25, 10, 7 yards.
RIFLE - Event 2: "Tactical Match Course" NIGHT SHOOT, as follows:
- Deliberate, 10 rounds in 3minutes (no marking), then directly into next string,
- Snap, 5x 6 second exposures to fire 10 rounds.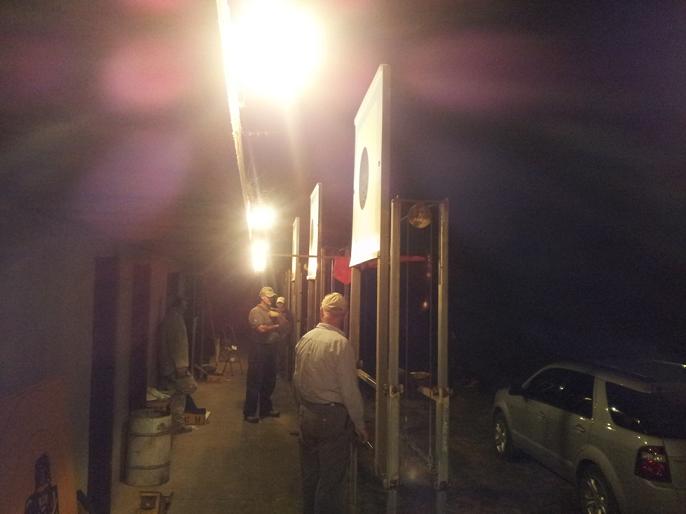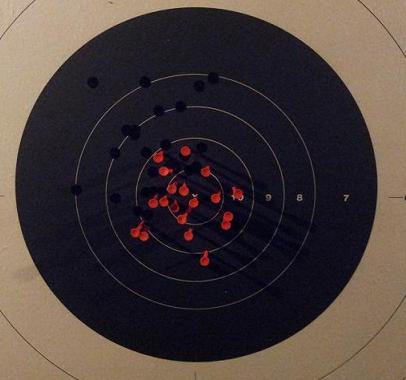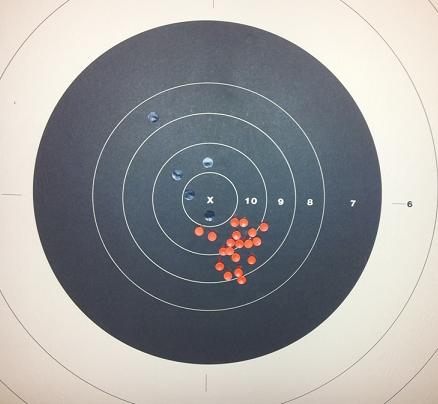 Anthony Wison's 190.07/200, with 1 shot down... Peter Barnier's 195.01, in the wrong spot...
DEL/SNAP
FIRST NAME
LAST NAME
X
10
9
8
7
6
5
SCORE
HITS
DEAN
DEWHURST
12
6
2
198.12
20
SIMON
FLETCHER
8
9
3
197.08
20
MARK
PETTETT
5
12
3
197.05
20
EMILY
CRONIN
6
10
4
196.06
20
JORDAN
HENRY
0
16
4
196.00
20
PETER
BARNIER
1
14
5
195.01
20
NATHAN
FENNESSY
8
7
4
0
1
193.08
20
DAVE
GULLIFORD
5
10
3
2
193.05
20
JOHN
BARNIER
12
3
3
1
0
1
191.12
20
ANTHONY
WILSON
7
12
190.07
19
CHRIS
HELLIWELL
5
6
6
2
1
187.05
20
PETER
BEIKOFF
0
11
2
5
2
182.00
20
SAM
BARNIER
2
4
6
6
2
176.02
20
DAVE
HATHERELL
1
7
2
0
5
5
163.01
20
NIGEL
REEVE
0
1
2
3
8
6
144.00
20
ROSS
TAYLOR
1
2
2
2
6
4
2
140.01
19
PAUL
BRICE
1
2
3
0
6
1
1
110.01
14
SATURDAY
RIFLE - Event 3 : "International Match Course" 80 shot as follows:
STRING 1
200y Slow Fire Application, Standing U/S (2 sighters + 20 rounds) 22min, SR
STRING 2
200y Rapid Fire, Sitting U/S (2 sighters + 2x 10 rounds) 60sec, SR
STRING 3
300y Rapid Fire, Prone U/S (2 sighters + 2x 10 rounds) 70sec, SR-3
STRING 4 600y Slow Fire Application, Prone U/S (2 sighters + 20 rounds) 22min. MR-1
200 SLOW FIRE - A
200 SLOW FIRE - B
200
200 RAPID FIRE - A
200 RAPID FIRE - B
200
300 RAPID FIRE - A
300 RAPID FIRE - B
300
600 SLOW FIRE
600 SLOW FIRE
600
IMC80
IMC
IMC50A
IMC
FIRST NAME
LAST NAME
QMRC
Spec
AIHPA
Spec
X
10
9
8
7
6
5
SCORE
HITS
X
10
9
8
7
6
5
SCORE
HITS
SCORE
X
10
9
8
7
6
5
SCORE
HITS
X
10
9
8
7
6
5
SCORE
HITS
SCORE
X
10
9
8
7
6
5
SCORE
HITS
X
10
9
8
7
6
5
SCORE
HITS
SCORE
X
10
9
8
7
6
5
SCORE
HITS
X
10
9
8
7
6
5
SCORE
HITS
SCORE
TOTAL
%
TOTAL
%
PETER
RICHARDS
STD
1
3
4
3
90.00
10
4
3
2
1
89.00
10
179.00
3
3
2
2
87.00
10
4
1
4
1
94.04
10
181.04
2
2
2
1
2
1
78.00
10
2
8
92.00
10
170.00
1
3
4
2
92.01
10
1
2
2
1
4
84.01
10
176.02
706.06
88.3
431.02
86.2
PETER
ANTHONY
WILSON
STD
1
2
5
3
89.00
10
2
1
2
1
2
70.02
8
159.02
3
6
1
92.00
10
1
5
4
87.01
10
179.01
1
3
3
1
2
89.01
10
3
2
4
1
85.00
10
174.01
1
3
1
1
4
85.01
10
1
2
3
3
1
79.01
10
164.02
676.06
84.5
434.03
86.8
ANTHONY
ANDREW
GRIFFITHS
STD
1
1
2
5
2
82.00
10
1
2
1
4
1
1
78.01
10
160.01
2
4
4
88.00
10
3
7
83.00
10
171.00
1
1
2
4
1
69.00
9
2
6
2
78.00
10
147.00
1
1
3
2
1
63.00
8
1
1
3
4
1
78.01
10
141.01
619.02
77.4
380.01
76.0
ANDREW
ROD
WOOD
STD
1
1
4
4
1
94.01
10
4
4
2
92.00
10
186.01
4
2
4
90.00
10
1
6
2
80.00
9
170.00
1
3
1
3
50.00
8
1
1
2
3
42.00
7
92.00
1
2
3
2
2
78.01
10
1
1
3
2
3
84.01
10
162.02
610.03
76.3
396.03
79.2
ROD
CHRIS
RAY
STD
1
2
2
2
2
1
65.00
9
2
4
1
1
70.00
8
135.00
3
1
2
1
58.00
7
2
2
3
1
1
75.02
9
133.02
6
2
2
84.00
10
2
2
3
1
2
71.00
10
155.00
1
3
4
2
77.00
10
1
1
4
1
1
1
69.01
9
146.01
569.03
71.1
353.01
70.6
CHRIS
ROSS
TAYLOR
MOD
2
1
3
2
2
1
1
78.01
10
1
3
3
1
2
70.00
10
148.01
4
4
1
1
81.00
10
2
5
3
79.00
10
160.00
1
2
6
1
83.00
10
3
4
1
2
78.00
10
161.00
2
2
3
3
83.00
10
1
4
2
3
89.01
10
172.01
641.02
80.1
414.02
82.8
ROSS
DAVID
HATHERELL
MOD
2
1
4
3
1
68.00
9
2
2
3
57.02
7
125.02
1
2
1
3
2
1
83.01
10
5
1
1
1
66.00
8
149.01
1
1
3
1
1
2
1
79.01
10
2
2
2
4
82.00
10
161.01
2
1
2
1
3
1
83.02
10
1
2
2
2
3
85.01
10
168.03
603.07
75.4
398.05
79.6
DAVID
PETER
BARNIER
MAT
3
3
2
4
1
87.00
10
1
5
3
1
86.01
10
173.01
8
2
98.00
10
1
7
2
98.01
10
196.01
1
6
3
97.01
10
3
4
2
1
96.03
10
193.04
5
3
1
1
92.00
10
1
3
4
2
92.01
10
184.01
746.07
93.3
466.02
93.2
PETER
JOHN
BARNIER
MAT
3
1
4
5
86.01
10
1
1
3
4
1
86.01
10
172.02
1
8
1
99.01
10
3
3
4
96.03
10
195.04
2
3
5
95.02
10
3
4
3
97.03
10
192.05
4
1
2
3
87.04
10
5
2
3
97.05
10
184.09
743.20
92.9
464.13
92.8
JOHN
DEAN
DEWHURST
MAT
3
1
1
5
2
1
88.01
10
1
4
5
86.00
10
174.01
1
4
4
1
93.01
10
1
2
5
2
91.01
10
184.02
2
5
2
1
88.00
10
1
5
4
96.01
10
184.01
1
1
5
2
1
88.01
10
4
4
1
1
96.04
10
184.05
726.09
90.8
453.07
90.6
DEAN
SAM
BARNIER
MAT
3
2
3
3
1
78.00
9
1
5
1
1
1
84.01
9
162.01
1
7
1
1
87.00
10
2
5
3
89.00
10
176.00
1
5
4
96.01
10
1
5
3
1
95.01
10
191.02
1
6
2
1
96.01
10
5
3
1
1
97.05
10
193.06
722.09
90.3
454.07
90.8
SAM
NATHAN
FENNESSY
MAT
3
2
2
4
1
77.00
9
3
2
2
1
2
83.00
10
160.00
1
7
2
98.01
10
2
5
3
97.02
10
195.03
1
3
5
85.01
9
1
5
4
96.01
10
181.02
3
3
3
1
87.00
10
1
2
6
1
92.01
10
179.01
715.06
89.4
439.03
87.8
NATHAN
NIGEL
REEVES
MAT
3
2
1
2
3
2
78.00
10
1
2
2
2
2
1
84.01
10
162.01
3
6
1
92.00
10
2
5
1
1
87.02
9
179.02
1
1
7
1
90.01
10
2
3
5
95.02
10
185.03
2
2
4
2
84.00
10
2
4
2
2
94.02
10
178.02
704.08
88.0
438.03
87.6
NIGEL
DAVE
GULLIFORD
MAT
3
1
3
1
1
2
56.00
8
2
1
4
3
72.00
10
128.00
2
3
3
1
1
84.00
10
1
1
4
3
1
87.01
10
171.01
1
2
3
1
1
72.01
8
1
2
4
2
1
89.01
10
161.02
1
1
6
2
72.01
10
1
3
2
2
2
88.01
10
160.02
620.05
77.5
372.03
74.4
DAVE
JORDAN
HENRY
MAT
3
1
2
3
2
1
72.00
9
1
5
1
1
69.00
8
141.00
1
2
3
1
59.00
7
1
2
3
4
80.00
10
139.00
1
1
7
1
82.00
10
1
1
4
2
2
84.01
10
166.01
2
1
1
3
3
84.02
10
2
2
1
5
81.02
10
165.04
611.05
76.4
378.04
75.6
JORDAN
PAUL
FEENEY
MAT
3
3
5
2
81.00
10
1
1
2
3
3
83.01
10
164.01
1
3
2
53.01
6
2
1
3
2
1
80.02
9
133.03
1
3
3
2
75.00
9
1
3
2
3
74.00
9
149.00
2
2
1
3
1
72.00
9
3
3
3
1
87.00
10
159.00
605.04
75.6
368.01
73.6
PAUL
SIMON
FLETCHER
MAT
5
1
3
4
2
92.01
10
3
5
1
1
90.00
10
182.01
2
7
1
99.02
10
3
5
2
98.03
10
197.05
4
2
4
96.04
10
2
7
1
99.02
10
195.06
2
3
4
1
93.02
10
3
4
2
1
96.03
10
189.05
763.17
95.4
476.12
95.2
MICHAEL
BEAK
MAT
5
1
2
5
2
91.01
10
2
1
4
2
1
89.02
10
180.03
2
2
6
94.02
10
4
3
3
97.04
10
191.06
1
2
7
93.01
10
1
6
2
1
96.01
10
189.02
1
3
4
2
92.01
10
1
2
7
93.01
10
185.02
745.13
93.1
463.06
92.6
MICHAEL
SCOTT
DRIVER
MAT
5
2
2
5
1
85.00
10
3
4
2
1
89.03
10
174.03
1
4
3
2
93.01
10
2
6
2
98.02
10
191.03
5
4
1
94.00
10
2
1
3
4
89.02
10
183.02
2
5
3
97.02
10
1
4
4
1
94.01
10
191.03
739.11
92.4
463.04
92.6
SCOTT
PETER
BEIKOFF
MAT
5
2
1
4
3
90.02
10
4
2
2
1
81.00
9
171.02
1
2
4
3
90.01
10
2
6
2
98.02
10
188.03
1
2
5
2
91.01
10
1
2
6
1
92.01
10
183.02
3
5
1
1
95.03
10
1
3
4
2
92.01
10
187.04
729.11
91.1
458.08
91.6
PETER
MARK
PETTETT
MAT
5
1
1
5
3
89.01
10
3
2
4
1
77.00
10
166.01
2
6
2
80.00
10
1
3
4
2
92.01
10
172.01
2
8
100.02
10
1
5
3
1
95.01
10
195.03
1
1
4
3
1
87.01
10
2
4
2
2
94.02
10
181.03
714.08
89.3
450.06
90.0
MARK
CHRIS
HELLIWELL
MAT
5
1
1
3
3
2
83.01
10
4
1
2
3
76.00
10
159.01
2
2
4
1
1
91.02
10
1
6
2
80.01
9
171.03
2
2
6
94.02
10
7
3
97.00
10
191.02
2
3
1
4
83.00
10
4
1
1
2
2
89.04
10
172.04
693.10
86.6
440.09
88.0
CHRIS
EMILY
CRONIN
MAT
5
2
2
5
64.00
9
1
5
4
87.01
10
151.01
2
6
1
1
89.00
10
2
3
2
1
1
75.00
9
164.00
1
2
5
2
91.01
10
6
3
1
94.00
10
185.01
1
6
1
2
95.01
10
4
1
2
2
1
91.04
10
186.05
686.07
85.8
430.06
86.0
EMILY
RON
MOIMOI
MAT
5
1
3
2
2
1
73.00
9
5
2
2
1
81.00
10
154.00
2
1
3
1
2
72.00
9
2
1
1
2
3
1
82.02
10
154.02
1
2
3
2
2
87.01
10
2
1
3
3
1
88.02
10
175.03
2
1
5
2
75.00
10
2
3
1
4
83.00
10
158.00
641.05
80.1
390.01
78.0
RON
ANNE
BLOXHAM
MAT
5
2
1
1
2
2
2
79.02
10
1
2
3
2
2
69.00
10
148.02
2
2
5
69.00
9
2
1
2
4
1
79.00
10
148.00
2
3
1
2
2
81.00
10
1
3
3
1
1
1
88.01
10
169.01
4
2
3
1
84.00
10
2
1
1
5
73.02
9
157.02
622.05
77.8
386.04
77.2
ANNE
LEIGH
SINCLAIR
MAT
5
3
1
2
2
61.00
8
1
2
2
4
1
78.00
10
139.00
1
1
7
1
82.00
10
4
2
3
1
89.00
10
171.00
3
4
3
80.00
10
2
5
2
1
88.00
10
168.00
1
6
2
62.00
9
1
2
3
3
1
81.01
10
143.01
621.01
77.6
366.01
73.2
LEIGH
JOHN
POULTER
MAT
5
1
3
2
1
53.00
7
1
2
1
4
1
70.01
9
123.01
2
4
1
1
55.00
8
1
4
2
2
67.00
9
122.00
1
3
3
1
1
82.01
9
3
2
4
1
87.00
10
169.01
1
4
4
1
65.00
10
3
1
2
2
1
1
80.00
10
145.00
559.02
69.9
335.01
67.0
JOHN
PAUL
BRICE
MAT
5
2
4
2
1
77.00
9
1
2
1
3
2
69.00
9
146.00
4
2
1
1
2
85.00
10
2
2
2
1
1
63.00
8
148.00
2
3
1
1
53.00
7
3
2
2
2
1
74.00
10
127.00
1
1
1
3
1
2
64.00
9
2
3
1
3
69.00
9
133.00
554.00
69.3
348.00
69.6
PAUL
DARBY
MUNRO
MOD
5
4
1
2
54.00
7