CORRYONG VIC RIFLE RANGE
AIHPA HAS ZERO CONTROL OVER THESE RANGES.
THESE RANGES ARE LISTED TO HELP PROMOTE ONLY.
<![if !vml]>
<![endif]>
Map To Range: Range located approx 40 minutes south from NSW/VIC border – 5min north from Corryong township on Murray Valley Hwy. When travelling North from Corryong town centre, the range is on your right.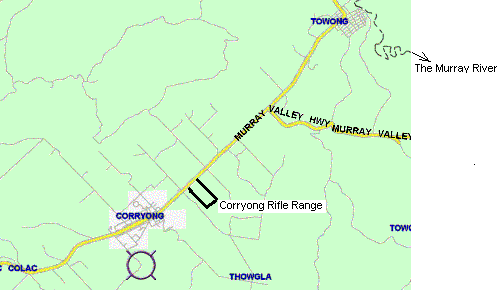 Shelter: None on site. Portable.
Cooking: None on site. Portable.
Electricity: Generator.
Water: None. Portable.
Toilets: None. Portaloo.
Showers: None.
Range: 1,200yards with fixed target line. 7 targets wide pit/butts style.
Mobile phone coverage: Yes - selected services.
Accommodation: There is no formal accommodation on the range. Guests my camp at local camp grounds by the Murray River.
Accommodation is available around town, and surrounding towns. Suggest you try:
Corryong Country Inn, 7- 11 Towong Rd Corryong VIC 3707, ph: (02) 6076 1333
Corryong Courthouse Hotel Motel, 27 Hansen St Corryong VIC 3707, ph: (02) 6076 1711
Corryong Hotel Motel, 54 Towong Rd Corryong VIC 3707, ph: (02) 6076 1004
Pinnibar Motel, 74 Towong Rd Corryong VIC 3707, ph: (02) 6076 1766 Motels
Colac Colac Caravan Park, Murray Valley Hwy, Corryong VIC 3707, ph: (02) 6076 1520
Mt Mittamatite Caravan Park, Murray Valley Hwy Corryong VIC 3707, ph: (02) 6076 1152