TARGETS (X-Ring)
These are paper targets. They can be attached to any reasonable backing (timber, cardboard, plastic) using tape, staple, glue, etc.
Full Size:
- SR, 4ft x 4ft full 200 $4.50ea
- SR-C, 200 repair centre (aiming mark) $2ea
- SR-3C, 300 repair centre (aiming mark) $2ea
- SR-5, 30" x 30" 200 without 5 or 6 ring $3ea
- MR-1C, 600 repair centre (aiming mark) $4.50ea

Reduced Size (reduced distance):
- SR-1 200 reduced to 100 (tag board) $3ea
- SR-42 300 reduced to 200 $2ea
- SR-52 600 reduced to 200 $2ea
- MR-63, 600 reduced to 300 $4ea
- MR-63C, 600 red to 300 repair centre $2ea
AUS HPR SHIRTS & SWEAT SHIRTS
Show your support for shooting across the course matches. These shirts and pull-over sweat shirts are 100% cotton. The sweat shirt is to wear under your coat to protect it from dirty and sweaty, or keep you warm on the winter days. (OUT OF STOCK)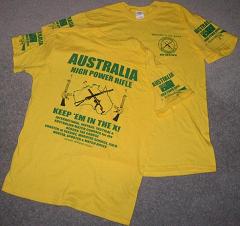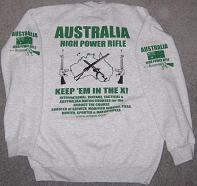 Shirts $ea Sweat shirts $ea
Australian High Power Rifle
Stubby Holder
This is as Australian as it comes. Stunning colour contrast, and very good quality.
$5ea
AIHPA or HPR Pin.
<![if !vml]>

<![endif]>
$5ea.
Note: These pins come with every membership. Additional pins, $5ea.
IMC Classification/Grade Card
Record all your results with this classification card, which also serves as a quick reference guide to your historical results, and some other useful high power rifle information.
Cost $5ea.
High Power Rifle Patch
These 85mm diameter, iron-on, patches are high quality with gold metallic thread to make them really stand out.
Cost $5ea
SUGGESTED IRON ON PROCEDURE. Note: No responsibility is taken for the following, as it is provided with good will.
- put garment flat on an ironing board, or something suitable,
- turn iron on high heat, but turn off steam,
- place iron on garment in area where patch is to go until surface of
garment is hot (5-20sec?),
- put patch in place (on hot material),
- place iron over patch for minimal time only (5-10sec?),
- when done, DO NOT touch or move patch or garment. Leave in
position until garment is cool (perhaps 15minutes?).
Australian High Power Medals (Rifle & Pistol).


These 55mm diameter medallions are 3mm thick, with ribbon loop, and have a 30x30 square recess in the rear for the sticking of engraved name plates. These are NOT FOR SALE to individuals, but can only be earned by successful completion of an AIHPA or sanctioned HPR event. Host clubs etc may purchase these medals for their sanctioned events. Contact AIHPA for details.
Qualification Patches
Refer to the Qualification section of this site to know how to earn all your qualification rockers.

This Qualification header patch will sit nicely above your qualification rockers.
$5ea

These rocker patches are eligible to AIHPA members only after having completed the relevant qualification levels in sanctioned matches only. Refer to Qualification Section.

Each patch must be applied for to AIHPA by the shooter as each relevant level is reached.

Cost:
- Red & white rockers, $3ea.

- Green & gold rockers, $6ea
HP Qualification Pins

In addition to the qualification patches, these pins are available by successful completion of each relevant phase of the qualification program. They are ordered by request only.
Each pin costs $8ea. DE pin $10ea



High Power Rifle Rulebook
Something every HP shooter should have close by. These are the rules for HPR which is used by the NRA and AIHPA to govern our events.

This book covers all sub-disciplines - Across the Course, Long Range and Palma.

(Note: AIHPA also enforces layover Australian by-laws which are outlined on the AIHPA website).

$6ea
Empty Chamber Indicator
Some clubs in Australia, and many around the world, make this item compulsory. It is inserted into the rifle action when the bolt is back so the firearm can easily be identified with an empty chamber and open action. Fit .22 and up.
$3ea