Crushed Corn Cob has been used as polishing media for many years. When it comes to friction polishing media, it is very hard to beat - due to its excellent natural qualities. Why?
Vibratory finishing and tumbling in a tumbler are mass finishing processes where abrasive and absorbent characteristics are generally both desirable. Corncob grit is very good at retaining the polishing compound, and hard enough to cut away dirt without the damage to surfaces caused by harder media.
Corn Cob Grits with polishing compound is an excellent Abrasive & Absorbent Media suitable for use in Polishing, Drying, soft De-burring, De-flashing, Blast cleaning of Engineering, Metal & Plastic components/parts. It is completely Biodegradable and does not stick the components while being used for removal of Moisture, Oil & Grease, imparting Surface finish, Luster/Gloss & soft De-burring of components. It is suitable for use in Tumbling Barrels/Drums, Vibro Finishing M/c, Herperisers, Centrifugal M/c, Rotary Drum Dryers, Sand Blasting M/c, etc.
Especially, this product is ideal to polish brass, silver, and other non-ferrous metals in a vibrating tumbler. Shooters of pistol and rifle have used this media to polish their cartridge cases for years, and most all polishing media for case cleaning commercially has been crushed corn cob. Sure, some use crushed walnut shell, which works fine, but its ability to retain the polishing compound has been found to not be quite as good...and it has not produced the same results with several uses of the same media.
Grit blasting with corncob particles is accomplished with the same equipment as used for sand blasting. Because corncob grit is considerably less aggressive than sand, it is often categorized as a "soft abrasive" (corncob grit has a 4.5 Mohs hardness). Corncob grit does not etch glass or foul bearings and is frequently used to clean electric motors and machinery with hydraulic cylinders. Other applications include: smoke damage and residue clean-up; mould cleaning; plant maintenance; and loose and flaking paint removal. It is ideal for wood, aluminium and fiberglass substrates.
Grade selection is typically based upon the finished surface profile desired and the diameter of any holes or cavities in the part. The selected grade should not contain particles that would lodge in part openings.
Unlike mass finishing processes, blasting with corncob grit is not as predictable. Each job tends to have unique characteristics which do not allow for estimating precise media usage or outcomes. We recommend testing a couple of grades to determine which offers the best performance.
We carry 10/14 grit crushed corn cob only. Other sizes given for comparison only.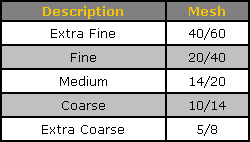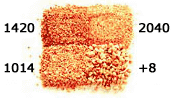 Do NOT pay typical retail prices. We have seen 2lb (less than 1kg) bags for $10-15 per bag. CRAZY! These bags are just under 16kg each, so the product works out to less than half the price of commercial product.
$55/10kg drum, plus postage and handling.
We do NOT sell in smaller parcels, nor do we sell product in other mesh sizes.
email us: